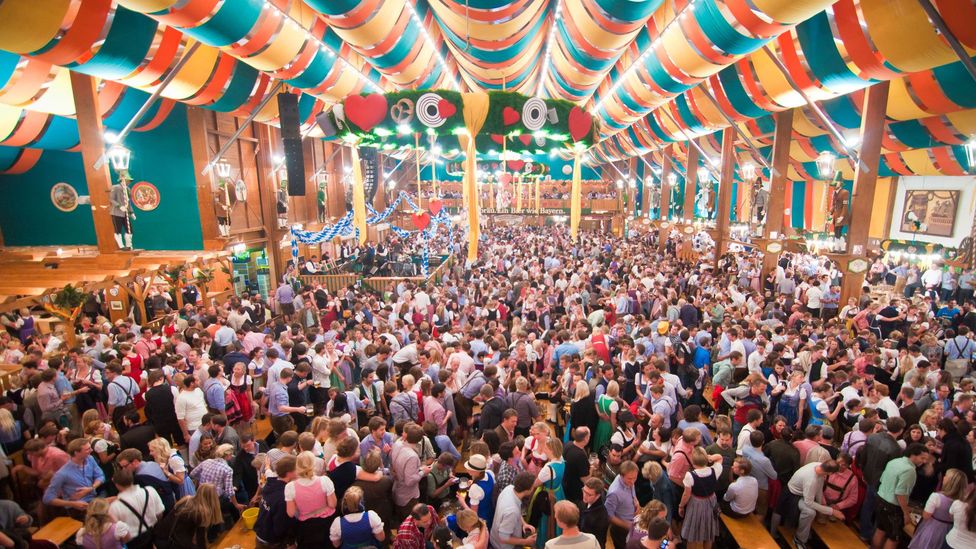 Nothing says Autumn like football, falling leaves and drinking beer. OK the drinking beer thing is every season . . . but this is indeed a special time of year for craft beer.
Few beers accentuate that better than Oktoberfest Lager, which arrives at the end of the summer and heralds the onset of the biggest beer party on the planet (when it's not canceled by coronavirus like it was this year and last).
Oktoberfest in Munich, Germany is attended annually by 6 million people who go through about 66,000 barrels of beer (it would take our brewery over a year and a half to brew that much beer). And even though it's called Oktoberfest, it's traditionally celebrated in September when the days are warmer — and a little longer. Germans are apparently big on day drinking.
So why are we holding a celebration in October? Because ours isn't OKtoberfest — it's HAWKtoberfest.
I feel your puzzled looks from here. Let me explain. You might be familiar with our Craft Happiness Project, which themes and brews beers based on needs in our community. In 2019 we created Raptorial IPA, brewed to help protect birds of prey (hawks, falcons, eagles, owls . . . even vultures). Our brilliant marketing department (full disclaimer: the ones writing this blog) came up with the bright idea of celebrating the release of the beer by releasing a rehabilitated hawk back into the wild. Fortunately North Carolina is home to one of the preeminent wild bird rehabilitation facilities on the planet, Carolina Raptor Center. They enthusiastically agreed to help us out, and the result was, well . . . majestic.
So we thought . . . well that was cool. Let's do it again. Annually. And thus was born Hawktoberfest.
Obviously this isn't your typical Oktoberfest celebration — no tuba bands or guys in lederhosen. What we will have is plenty of great beer (including our version of Oktoberfest Lager, and our just-brewed Stout and Frostbite Black IPA), specialty beer 'flights' (ha!), live music and food trucks, and a full interactive display from our friends at the Raptor Center. Then around 5pm or so, we'll let our newly healed feathered friend fly free. It's an amazing site – one you should be here to see.
"The Raptor Center is extremely grateful to have Foothills Brewing as a community partner," says Jim Warren, Executive Director of Carolina Raptor Center. "Starting with Raptorial IPA in 2019 and now Hawktoberfest, the great folks at Foothills understand who we are and what it takes to help us achieve our mission. I appreciate their team's generosity and willingness to give back. Also…we just love their beer!"
And we love your birds. Come help us set one free – at our free to attend, kid friendly Hawktoberfest – Saturday October 23rd.
Foothills Tasting Room
3800 Kimwell Drive
Winston-Salem, NC