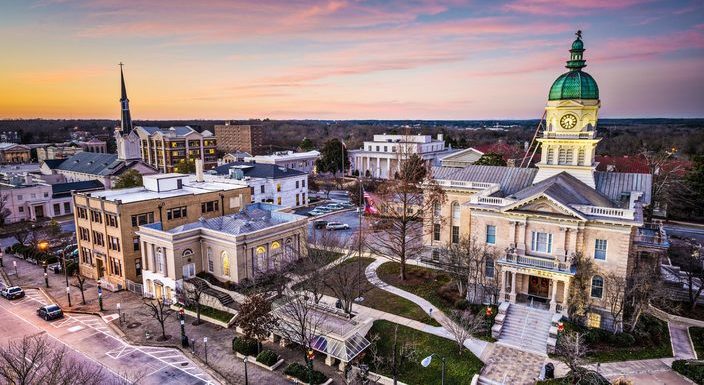 At first glance, there's seemingly little to connect Athens, Georgia with Winston-Salem, North Carolina.
They're in different (though neighboring) states. One's older (Winston-Salem). One's smaller (Athens).
Even our respective schools are strangers. Wake Forest and Georgia have only played football three times – and not since 1979 (for the record Wake won that one 22-21).
But look closer, and there's some commonality.
Clarke County, where Athens is located, is named for North Carolina native Elijah Clarke.
Like Winston-Salem, Athens was once known by a two-word moniker (Cedar Shoals).
Best part? Both cities are located in the foothills of mountain ranges (Athens – Blue Ridge Mountains, Winston-Salem – Appalachian Mountains).
Which is incredibly appropriate since both cities have a distinct craft beer connection, in the form of Foothills owner – and University of Georgia graduate – Jamie Bartholomaus.
It was at UGA Jamie first developed an interest in home brewing. (no truth the rumors he homebrewed in his dorm room – 'cause that would, ya know, be against university policy). He would go on to work at a local brewery in Athens before moving to North Carolina and eventually opening Foothills.
So when the award-winning Trappeze Pub (which just happens to be located in Athens) reached out to us about helping them make a beer for their upcoming 10th anniversary, it was hard for Jamie to say no.
But what to make?
"We don't have to do something crazy", Trappeze bar manager Luke Fields remembers telling Jamie and our brewmaster T.L. Adkisson at the time. "We could just do a simple tweak to one of your existing recipes. Then, he added prophetically, "I just threw it out there, something like a dry-hopped Torch Pilsner."
Just so happens that's an idea Jamie and TL have been batting around for awhile, and have been eager to make. Besides, according to Luke, tweaking an existing recipe is infinitely more appealing than dreaming up some crazy new concoction.
"I've seen the strawberry marshmallow stouts and key lime pie rhubarb goses and all that kind of crazy sh*t" he says, tongue-in-cheek. "But most people just want a really good beer. And you guys make a really solid pilsner. It seemed like a really good opportunity to have an award-winning beer on tap at our place, with a really cool twist to it that we helped add."
So Luke, general manager Aaron Wallace and assistant bar manager Markus Trujillo made the trek up to Winston-Salem in mid-October and spent the day brewing at our place. And loved it.
But then, they've spent a decade working closely with local craft breweries. "We wouldn't be open for 10 years without brewery support," says Aaron. "And for us being able to collaborate with some of our heroes, you can't beat that. It's great to brew a like Torch beer that we all love – and this will introduce Foothills to some people who might not know it."
He's probably right. This is Foothills' first collaboration with anyone outside the state of North Carolina. Fitting that it's with a great pub, from a place where Foothills was, at least theoretically, born.
The Trappeze version of Torch should be ready sometime during the holidays, and will be available on draft at the pub and tasting room locally, and at Trappeze Pub for their 10th Anniversary celebration.